7/8/2011

If you want to know more about EVS
You have landed in the right place!
Here, you will find stories of past EVS volunteers at the ISCA secretariat in Copenhagen, Denmark, the experience, the fun, the challenges and the inside scoop!
Through these we hope to give you a taste of life as an EVS at ISCA and maybe this will answer a few questions or help you take that first step in taking part in a great experience.
ISCA is additionally, an EVS coordinator for different 'Education through Sport' organisations in Denmark to find out about these please see the ISCA coordinated EVS section, which has other volunteers stories.
Enjoy the reading!
---

Anne-Flore Angot
, France
2010-2011 Long term EVS


Saskia van de Nieuwenhof
, Netherlands
2008 - Short term EVS
Why did you take part in an EVS in ISCA?
After being a participant in the 'Open Source Youth Networking seminar' held by ISCA in February 2007, I stayed involved in the project by means of online working methods. Our goal was to set up an online community for young people interested or involved in volunteering and youth work.
As a follow up on the seminar, the first YOURCE conference was held in October of the same year and I was part of the facilitators' team.
Only a couple months later, in February, I started my short term EVS at ISCA. My EVS project was only for two months, and therefore it was important to have a specific focus. My task was to develop the use of open content license for the new website that was being developed at the time.
What was the highlight of your EVS experience?
At the end of my time at ISCA, I had the chance to present my findings to our 18 international partners at the kick-off meeting of the project in Salzburg, Austria.
An insight into ISCA:
ISCA is an interesting workplace, because of its divers member organisations, its international character and the combination of permanent staff and volunteers. What I liked most of working at ISCA is the way volunteers are being involved in everything that is going on at ISCA. Although your position at ISCA is temporary, you will be asked for your opinion on various issues.
What next?
After my EVS I will try to find a job in Scotland, preferably in an international NGO.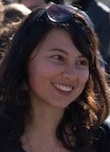 Karine Teow
, France
2008 - Long term EVS
Doing a European Voluntary Service at the ISCA secretariat provides the perfect balance between:
- The freedom to do what you like (within youth, sport and culture)
- and the guidelines or advice needed for you to get there.
To me this experience offers an ideal environment to learn. ISCA pushes its individuals to grow, develop their own ideas and projects while at the same time offers a safety net, just in case.
My personal advice to future EVS volunteers in the ISCA office or those thinking about applying... Firstly, apply you do not loose anything by trying and if you are lucky and have the right profile who knows.
Once you are an EVS:
- Come with an open mind
- Give yourself time to understand what is going on and connect the dots
- Try new things
- Share your ideas, however dull you think they may be someone else might get another idea from it and a project may spark.
- Enjoy the sunny days and/or cake days.
- Get cycling the city feels different when you cycle, it's a good feeling.
- Find something to do outside of the office, whatever it may be evening class, ultimate Frisbee, cooking class.
- Try to develop your own project, idea within ISCA.
- Enjoy!!


Martina Zídková
, Czech Republic
2002/2003 EVS
A "volunteer" story...
'The European Voluntary Service is a great opportunity for young people to work abroad, they can learn a lot of new things, not only about other countries but also about themselves, they can meet a lot of interesting people and create new friendship...' those are the words you can read at the web pages promoting the EVS-programme. But no one is able to tell you how it really is to be a volunteer in another country before you go there and experience it yourself.
The first time I heard about EVS, I found it a very interesting programme and, to be honest, I couldn't believe that a programme like this existed. But I was also lucky; I got to know about EVS and ISCA (International Sport and Culture Association where I have worked voluntarily for almost 9 months already) from the former volunteers who were working at the ISCA office at that time. I liked the idea from the beginning so I started to search for more information with a special emphasis on this particular project.
When I received the letter from the ISCA office telling me that I was accepted, I was very happy and started to plan my new future. I found the sending organisation, one of the ISCA member organisations, who was very open-minded and very helpful even if the EVS project was as new for them as it was for me. However, with great support from the Czech National Agency everything went smoothly so on the 1st September, Elitsa, the volunteer in the ISCA office of the time, came to pick me up at the Copenhagen Airport. And the adventure started...
I was aware that the first weeks or months I had to get used to a new job, new people and new tasks. To be honest, after several days in the office I thought to myself: "What am I doing here?" "Is this job really for me?" "Will I manage one day?" "Mum, help!!!" ... all the questions you usually ask yourself at the beginning of a new experience. But on the other hand, people here at ISCA have been very helpful and I got a lot of support from them. Then I was very happy when I got my first "big task". I was responsible for the promotion of an ISCA festival in Spain for the Czech Republic and Slovakia, my home country and the country where people understand the same language.
The other interesting project I was involved in was the European Youth and Sport Forum in Aarhus in November 2002. This project brought me new experience in project management, and it allowed me to look a bit "behind the curtain of organizing youth events" and, of course, allowed me to meet many young people from all over Europe.
When someone decides to go abroad to spend some months, it means that s/he has decided to be "alone", to be the foreigner and the "stranger". This fact usually hits you during the stay and, unfortunately, there is no way to prepare for that. In my case, the first four months there were two other volunteers in the office, but even if they were here, sometimes I felt very alone – a new country, new people, a new job. There was no one to talk to in my mother tongue, I missed the well-known habits and ways I was used to from home and of course I missed my family. During this time, I found out how important my family is to me because they were always the ones I could write to or call and I always got all the support I needed. Therefore, I was very grateful that I was allowed to go home for Christmas. I spent 2 weeks at home and I had a really nice time together with my family.
Coming back to Denmark after Christmas was like a new beginning. The two volunteers, who were here with me until December, had gone and I stayed in the office as the only volunteer. It meant a lot of things to me. First of all, it meant more work. But, together with that, came more interesting projects, tasks and, what was most important to me, the feeling of being useful and confident in the tasks I was doing.
One of the first things we started to work on was the ISCA Committee Meeting in Italy planned for the end of February. Even if it was only a small meeting, there were many things to do and fix before that. After that, I spent most of my time helping prepare the ISCA General Assembly in Brazil, which took place in April. It was hard but in the end it turned out to be a very pleasant week in Brazil with people from many different countries, cultural backgrounds, with different ideas and characters. Many new projects and plans were introduced and new partnerships were created. An unforgettable experience.
And today? Well, one of the bigger changes is that I have the company of a new Spanish volunteer. We quickly became very good friends and are having a good time in the office as well in our spare time. Another important thing is the project I am working on together with the ISCA Youth Committee at the moment. The project which is aimed at youth leaders is going to take place in Spain during an ISCA gymnastics and dance festival this summer and it is going to be a great opportunity for young people to meet and learn something from the others and also for us to learn something about international youth work.
Right now, I can say I have learnt a lot – about ISCA, about the job itself, about Denmark and other countries, about international work, but also about my own country and, what is important to me, I have learned a lot about myself. I am looking forward to going home because there are new things waiting for me there, but I already know I will be very sad to leave Denmark and the friends I made here during my stay.

---