12/7/2010
Petition supporters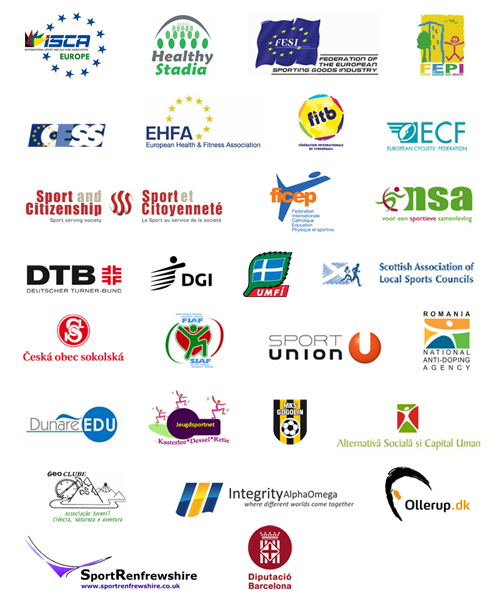 The petition for a common European vision of 100 MILLION MORE EUROPEANS ACTIVE IN SPORT AND PHYSICAL ACTIVITY BY 2020 is provided and supported by the following organisations:

ISCA Europe - International Sport and Culture Association
European Healthy Stadia Network
FESI - Federation of European Sporting goods Industry
FEPI - Federation of the European Play Industry
CESS - European Confederation Sport and Health
EHFA – European Health & Fitness Association
FITB - International Tchoukball Federation
ECF - European Cyclists Federation
FICEP - Fédération Internationale Catholique Education Physique et Sportive
DGI - Danish Gymnastic and Sport Association
UMFI - Icelandic Youth Association
SALSC - Scottish Association of Local Sports Councils
NSA - Nederlandse Sport Alliantie
FIAF - Federazione Italiana Aerobica e Fitness
National Anti-Doping Agency of Romania
Jeugdsportnet - Kasterlee*Dessel*Retie
ASCU - Alternativa Sociala si Capital Uman
Academy of Physical Education in Ollerup
---
List of supporters
Full name

Organisation

Country

Martin Uthaug
NGO
Norway
Jean-Luc Frast
ISCA
Denmark
elena donaggio
irs - istituto per la ricerca sociale
Italy
Jacob Schouenborg
ISCA
Denmark
Maja Albahari Vernik
Youth Council of Slovenia
Slovenia
Nejc Vernik
Slovenia
Marion smit
The Netherlands
Chrysi Spyropoulos
EUROHEALTHNET
Belgium
endrit shabani
youth for transparency
Albania
Stefan Manevski
Center for Intercultural Dialouge
Macedonia
Judit Danko
SZEDIPESZ
Hungary
Alexander Gorbachev
NGO Peresvet
Russia
Nina Bojadzic
IFMSA
Montenegro
Liam Durack
European Commission
Belgium
Shpresa Sulo
Ministry of Tourism, Culture, Youth and Sports
Albania
Rafal Nocon
MKS Gogolin
Poland
Furtunescu Florentina
University of Medicine and Pharmacy Carol Davila - public health department
Romania
Alexandru Pavelescu
-
Romania
Andrew Miller
Aberdeenshire Council
Scotland
Anghel Marian
AECO
Romania
FATIMA, GONZALEZ
EDUCATUM
Spain
Andrea
Ciccarese
Italy
Elisabeth Kremer
Germany
Antonella Cardone
UniTS - Università del Terzo Settore
Italy
Ruggero Alcanterini
Comitato Nazionale Italiano Fair Play
Italy
Cristi Catalui
Dunare.EDU
Romania
Anka Raic
UHAKUD u BiH/ Section CIOFF BH
Bosnia and Herzegovina
Terry Parker
Aberdeenshire Council
Scotland
Tatevik Pirumyan
Armenia
Moreno Jessica
France
Carlos Jorge da Silva Ferreira
Geoclube - Associaç~
Portugal
Giuseppe Arrius
Italy
Carlos Jorge da Silva Ferreira
Geoclube - Associação Juvenil de Ciência, Natureza e Aventura
Portugal
Kasper Mølgaard
DGI
Denmark
Milcho Bratov
IFPRR
Bulgaria
cindea nicoleta
youth for future 2006
Romania
Carlos Gonçalves
European Fair Play Movement
Portugal
Daniela Kostova
IFMSA
Bulgaria
elisabetta taschini
uisp
Italy
Gary Diderich
4motion asbl
Luxembourg
Goce ILIEVSKI
GARD-Citizens Association for Recreation Movement
Macedonia
Eivyda Budvyytyte
United Kingdom
Liliana Ayoubi
Syria
DECKER Robert
F I E P -Europe
Luxembourg
Sylwia Strzeboński
Europejskie Forum Studentów AEGEE- Kraków
Poland
Bo Busk Madsen
INTAC, International Academy of Physical Education in Ollerup
Denmark
George Constantinou
PASEK - SEK
Cyprus
Marian Prestage
Denmark
Lars Allert
Swedish Sports Confederation
Sweden
Barbora Bláhová
Junák
Czech Republic
Morten Kienitz
Haderslev fodbold klub
Denmark
Jan Bonnarens
Belgian University Sports Federation
Belgium
chris middleton
swiss academy for development
Switzerland
Jean Claude BESNARD
Union Française des Oeuvres Laïques d'Education Physique
France
Sandra Nuždić
Croatia
Raluca Dragoman
Club of exercising for health Bucharest
Romania
Camelia Toanchina
Club of exercising for health
Romania
Máire Whooley
European Commission
Belgium
Palombo Paola
UISP
Italy
Eniana
MJAFT! Movement
Albania
Gary Smith
World Bowls
Scotland
Liuben Naydenov
Spiritual Mirror Society
Bulgaria
Lyuba Gerasimova
Bulgaria
Matjaž Novak
Slovenia
Lizzy Whitehead
Paths for All
Scotland
Drew Smith
Scotland
Dr. Henning Eichberg
Denmark
Nail ABDULOV
National Assembly of Youth Organizations of the Republic of Azerbaijan
Azerbaijan
Nina Vestmark Christiansen
World Health Organization
Denmark
Borce Boev
Association of Macedonian sport federations
Macedonia
Marisela Ramirez
Instituto Costarricense del Deporte y la Recreacion
Costa Rica
Saska Benedicic Tomat
ISCA
Slovenia
Manuela Martinez
University of Valencia
Spain
Gentian Ulaj
Young intelectual,Hope
Albania
Gil Penalosa
8-80 Cities
Canada
JOŽE KLOFUTAR
ŠPORTNA UNIJA SLOVENIJE, SPLOŠNO ŠPORTNO DRUŠTVO TRŽIČ
Slovenia
Artan Shyti
Sport Research Institute Albania
Albania
allais
ufolep49
France
Plamen Dotschevski
NATIONAL SPORT ASSOCIATION
Bulgaria
Bulgarien Tourist Federacion
Delka Kavarkova
Bulgaria
Chiara Sammarco
Italy
Pepa Mitzeva
Bulgarian Ski Federation
Bulgaria
GALLET Benoit
UFOLEP
France
Larion Alin
Romanian Federation Sport for All
Romania
Jarmila Halgašová
PKS (Food Chamber of Slovakia)
Slovakia
Judith Liddell
European Federation of teh Association of Dietitians
Germany
Éva Héra
CIOFF Hungary
Hungary
Tijana Andelkovic
ISCA
Slovenia
Simon Clark
United Kingdom
Oliver Barsby
Scottish Association of Local Sports Councils
Scotland
Zdravka Georgieva
The Netherlands
valentin bojichkov
ski klub CSKA-2004
Bulgaria
Olena Kolosovych
Union Forum
Ukraine
Denitsa Pancheva
Ministry of Physical Education and Sport
Bulgaria
Tracz Zdzisław
Poland
Karine, Teow
France
Eilika Trummar
Estonia
Andreas Gahleitner
Austria
Sergio Zammit
Malta By Bike
Malta
Jiri Panek
Sokol
Czech Republic
LEVEQUE Simon
Comité National Olympique et Sportif Français
France
Neža Erznožnik
Sports union of Slovenia
Slovenia
Sophie Van Aelst
BVLO vzw
Belgium
David Turner
sports coach UK
United Kingdom
CONTE MAMADOU
GUINEAN FEDERATION OF SPORT FOR ALL
Guinea
Komla FIAGAN
Association Togolaise pour la Promotion du Sport pour Tous
Togo
Nina Uthaug
Stavanger Diamonds
Norway
Antonio Saccone
International Sport Culture Association
Italy
Justina Gliebute
Lithuania
Arnaud Gisquet
Comité MPY HMFAC
France
Sonny Jacobsen
Global Education through Sport
Denmark
Urska Erklavec
No Excuse Slovenia
Slovenia
Camelia Nistor
UNITED
The Netherlands
Nazan Maras
Comart Corporate Communication Services
Turkey
petar markov
bulgarian rred cros youth
Bulgaria
Rok Nezic
Slovenia
Vyara Kirilova
Bulgarian Young People Foundation
Bulgaria
Uğur Şahin
Turkey
Enxhi Tresa
Albania
Szumowski Julian
Centrum Aktywnosci Twórczej
Poland
Eva Geithner
dsj
Germany
Anca Ruxandra Pandea
Human Rights Education Youth Network
Romania
Repellin
France
Michael Schwesinger
Sportkreis Gießen
Germany
Hans Höhener
Eidgenössische Sportkommission / Federal Commission of Sport
Switzerland
Saimir Beqiraga
Young Intellectuals Hope(YIH)
Albania
djeffalsaadi
saving youth association
Algeria
ALEX SELAWOKA KWAME
NA
Ghana
mateja bulc
medical faculty of ljubljana university
Slovenia
Theodora Zachariadou
Cyprus Association of General/Family Medicine
Cyprus
Ladislav Mravec
Slovakia
Tobias, Martens
German Youth Sport Organisation
Germany
Vassil Kirilov
Bulgaria - Africa Association
Bulgaria
Mark Dawson
Canada
Ludivine Maitre Wicki
World Archery
Switzerland
Nina Stuppacher
ASKÖ
Austria
PLAMEN GEORGIEV
BYPF
Bulgaria
Vassilena Plamenova
ski club CSKA 2004
Bulgaria
Albena Georgieva
Turist Asosiation - Aleko
Bulgaria
Martin Bartel
Denmark
Ilia Lalov
Bulgarian Paralympic Association
Bulgaria
Miroslav Zítko
Czech Association Sport for All
Czech Republic
Iskra
Bulgaria
Jesús Telo Rodríguez
BLUME GRAN CANARIA
Spain
Anneli MacDonald
United Kingdom
mike nana
ISCA-GHANA
Ghana
Ani Nebiaj
Albanian Youth Parliament Gjirokaster
Albania
Kaia Brügel
Estonia
DANIEL OLIVEIRA
ISMAI
Portugal
Sofie De Bock
BVLO
Belgium
ants veetõusme
Estonian Academic Sports Fedration
Estonia
Helena.H.Kronberg
Torpaskolan, Härlanda, Göteborg
Sweden
Jan Cuypers
Jeugdsportnet Kasterlee*Dessel*Retie
Belgium
AVISSE Mireille
Asso Enseignants EPS
France
Marleen De Cock
Belgium
Jan Seghers
KULeuven
Belgium
Daniela Conti
Unione Italiana Sport Per tutti
Italy
Vera Goossens
XIOS Hogeschool Limburg
Belgium
Eddy Deleux
Belgium
Mona Moerman
SB Het Gryspeertje
Belgium
HARRY LEMBERG
ACADEMIC SPORT CLUB of TARTU UNIVERSITY
Estonia
Claude Scheuer
Association des Professeurs d'Education Physique Luxembourg
Luxembourg
ŽELJKO KUHTA
ELEKTRA-ZAGREB
Croatia
Matthew Philpott
European Healthy Stadia Network
United Kingdom
Jerzy Pospiech
EUPEA
Poland
Paolo Emilio, Adami
Federazione Italiana Aerobica e Fitness
Italy
Eneli Veermae
Estonia
Saskia van de Nieuwenhof
United Kingdom
Lettie Mclaughlin
Active Schools, North Ayrshire
Scotland
Kaja, Hauge Johansen
the Norwegian Federatoin of Studentsport
Norway
Anna Kucharska
Poland
Natasa Jankovic
ENGSO Youth
Serbia
Dumoulin Line
Bond voor Lichamelijke Opvoeding vzw
Belgium
Barbara Lang
FICEP
Austria
Dhalluin Rémi
France
OPREA DANIELA
YAZAKI COMPONENT TECHNOLOGY
Romania
Stefanie Kessler
European Peer Training Organisation
Germany
Filippo Fossati
UISP
Italy
Massimo Tossini
UISP Unione Italiana Sport Per tutti
Italy
Antonio Marcello
UISP Nazionale
Italy
Eros Mattioli
Uisp
Italy
Nancy Van Achte
SJC Oude Bareel
Belgium
Stavri Bello
National Olympic Committe of Albania
Albania
Van Den Bosch Robin
Formaat
Belgium
Federica Loreti
Uisp
Italy
Kasper Mølgaard
DGI
Denmark
FRANCESCA D'ERCOLE
UISP - UNIONE ITALIANA SPORTPERTUTTI -
Italy
Susan Grace
University of the West of Scotland
United Kingdom
PeterStephen Ndungu
Community Organisation For Race Equality
Scotland
Meeli Matsalu
Ministry of Social Affairs
Estonia
Vivian Wallace
Midlothian's Ageing Well
Scotland
Leeni Asola-Myllynen
Finnish Gymnastics Federation Svoli
Finland
Saara-Sofia, Sutela
the Finnish Gymnastics Federation Svoli
Finland
Lyuba Gerasimova
Bulgaria
FIHEZAMA
Association Sportive et culturelle
Madagascar
Colin MIEGE
France
Karina Cockaerts
Sport+
Belgium
Lars Mandrup
Danske Gymnastik- og Idrætsforeninger (DGI)
Denmark
Daniele Borghi
Peace Games Uisp
Italy
Nicola, Porro
Università di Cassino
Italy
Iñaki Iturrioz
Diputación Foral de Gipuzkoa
Spain
Igor Netkovski
Integrity Alpha Omega
Macedonia
COEUGNIET Michel
UFOLEP
France
Keith Kleszynski
U of Oklahoma
USA
Elizabeth Anderson
Active Schools
Scotland
Harald Bauer
CSIT
Austria
emma broadhurst
fife council
fife
aldo clementi
uisp
Italy
Radek, Komínek
Brněnská salesiánská volejbalová liga
Czech Republic
Hanne, Gyselbrecht
Bond Voor Lichamelijke Opvoeding Oost-Vlaanderen
Belgium
Drs Ger Kroes
Netherlands Institute for Sport and Physical Activity
The Netherlands
COMONT Olivier
Fédération Sportive et Gymnique du Travail
France
Lela Kiknadze
Greens Party of Georgia
Georgia
Benoit GALLET
UFOLEP
France
Chiara Volonté
INTERNATIONAL TCHOUKBALL FEDERATION
Italy
Marvin Radford
International Sport and Culture Association
Denmark
Fiona Donovan
Galway Healthy Cities Project
Ireland
Vladimir Dostal
Czech Sokol Organization
Czech Republic
peter smyth
irish sports council
Ireland
April Davidson
Scotland
Steen Bille
DGI
Denmark
COEUGNIET Michel
UFOLEP
France
PONCHON, Carole
Think tank Sport and Citizenship
France
Daniel Oliveira
ISMAI - High Insitute of Maia
Portugal
CHARTRAIN Marie Christine
UFOLEP du Cher
France
Desislava Teodosieva
Ministry of Physical Education and Sports
Bulgaria
Mats Glemne
Linnaeus University
Sweden
Agneta Ström
Sweden
Peter Eriksson
Swedish Sport confederation
Sweden
Erland Svensson
Rosengardsskolan
Sweden
Martin Funck
Smålandsidrotten
Sweden
Iwona Jacobsson
County Council Västernorrland
Sweden
Emma Nilsson
Smålandsidrotten
Sweden
Birgitta Sjokvist
Friskvården i Värmland
Sweden
Uebel
Swedish Sport Confederation
Sweden
Lena Jönsson
J-H Idrottsförbund
Sweden
Arja Pylkkö
f
Arja Pylkkö
The Finnish Gymnastic F.
Finland
Boerje Hedqvist
Swedish Ski Association
Sweden
Steen Bille
DGI
Denmark
Mads Bojsen
Denmark
Sandra Roks
Sweden
Ingegerd Ericsson
Sport Sciences Malmö University
Sweden
Per Toft Larsen
Tølløse Badmintonclub
Denmark
Jørgen olsen
DGI Storstrømmen
Denmark
DESISLAVA DOBREVA
Bulgarian young people foundation
Bulgaria
Anders Lundin
Sweden
Carlos Ferreira
Geoclube
Portugal
Karsten Jeppesen
Gevninge Idrætsforening
Denmark
Trine Hau Bentsen
Denmark
Laila Søndergaard Kragh
Nørskovlund IF
Denmark
troels jørgensen
Denmark
Lene Schødt
DGI Østjylland
Denmark
Sam. Amtoft
Tinglev-Uge Pensionistforening
Denmark
Troels Paulsen
Denmark
Balder, Brøndsted
DGI
Denmark
Martin F. Petersen
Denmark
Agnete Baisgaard
Danish Gymnastics and Sport Associations
Denmark
Bjarne Ziegler
DGI
Denmark
Louis de Voss
Denmark
Philip Stoffer Johansen
Denmark
Lisbeth Palmelund
Danske Gymnastik og Idrætsforeninger
Denmark
børge
dgi sydvest
Denmark
Ove Laustsen
DGI-NORDVEST
Denmark
Kian Mejdal
DGI Østjylland
Denmark
Marianne Høyer
DGI Denmark
Denmark
Ulla Rowedder
Denmark
June Hoejgaard Simonsen
Danske Gymnastik og Idrætsforeninger
Denmark
Gurli Marie Hesselberg
Denmark
Martin Olsson
DGI Tennis
Denmark
Per Håkansson
DDGI Storkøbenhavn, Denmark
Denmark
Torben Frølich
Denmark
Steen Hansen
Danske Gymnastik & Idrætsforeninger
Denmark
Lars Steen Pedersen
Denmark
Christa Nielsen
AG Aulum
Denmark
Anni Kathrine Søndergaard
Danske Gymnastik og Idrætsforeninger
Denmark
Helle Lykke Jørgensen
Denmark
Henning Christensen
Aalborg Danse- og Spillemandslaug
Denmark
Gitte Larsen
DGI
Denmark
Birthe Bach
DGI Nordjylland
Denmark
Sally Anderson
Denmark
Lis Philipsen
Broager ungdoms- og idrætsforening
Denmark
Ella Rasmussen
DGI
Denmark
Bettina Arens
Firehøje IF
Denmark
Lynge Kjeldsen
Denmark
Kurt Kirkedal Laursen
TMG Mårslet
Denmark
Rasmus Krogh
Municipality of Aalborg
Denmark
Flemming Torsten Sørensen
Danske Gymnastik & Idrætsforeninger
Denmark
torben bonde
Denmark
Rie Merrild Dieckmann
DGI Midtjylland
Denmark
Ole Blingedal
Sevel Hallen
Denmark
Inge
Staunstrup
Denmark
Tina Modin
Örebro läns Idrottsförbund
Sweden
Birte Nielsen
Danske Gymnastik og Idrætsforeninger
Denmark
Aase Bæk Brøgger
Højbjerg Lyseng Foreningsfitness
Denmark
Arne Rasmussen
Danish Gymnastics- and Sportsorganization (DGI)
Denmark
Jørgen Kristiansen
DGI - Danske Gymnastik-og Idrætsforeninger.
Denmark
Camilla Spagner
spagner.dk
Denmark
Kim Fohlmann
Olympia FC
Denmark
Peter Sig Kristensen
DGI Midtjylland
Denmark
Tony Jensen
Stenlille If
Denmark
Bettina Thomsen
Denmark
Ditte Guldbrandt
DGI
Denmark
Laurids, Green
Hatting Idrætsforening
Denmark
Marianne Koch
Gentofte-Vangede Håndboldklub
Denmark
Cyrielle Vernat
Sport et Citoyenneté
France
Nikolaj Sørensen
DGI
Denmark
Birgit Langelund
Danske gymnastik og Idrætsforeninger
Denmark
Mona Langballe
Danske Gymnastik- og Idrætsforeninger
Denmark
Lilli Boel
Nr. Vium GF
Denmark
Thomas Sørensen
DGI
Denmark
Inge
Asnæs Gymnastikforening
Denmark
Jette Hansen
Kokkedal Idræts Klub
Denmark
Hans Joergen Brudsgaard Nielsen
Danske Gymnastik og Idrætsforeninger
Denmark
Elna
Elna Sørensen DGI
Denmark
Jim
Borås Basket
Sweden
Anne Holt
Faxe Kommune
Denmark
Melih Oezkardes
Germany
Eva Johannsen
Genner IF
Denmark
Karin Redelius
Swedish Sports Confederation
Sweden
Per Riber Rasmussen
Hammelev Sogns Ungdomsforening
Denmark
Lies Willemsen
VIBO
Belgium
birgitte nielsen
danske gymnastik og idrætsorening
Denmark
Else Haun
IF Centrum
Denmark
Maria Petersen
DGI
Denmark
GIOVANNI MAURO
ASD STUDIO WELLNESS PLANET
Italia
Christel Bonde
SdU
Germany
Iva Voldanova
Belgium
Poul Sloth
DGI Nordjylland
Denmark
Else Sloth
DGI Nordjylland
Denmark
Inger Skaaning
DGI Vesrsjælland
Denmark
Rasmus Jensen
Sæby HK
Denmark
Jørgen Krebs
Danish Gymnastics- & Sports Association
Denmark
Lotta Stigsdotter
Swedish orienteering
Sweden
Matti Leijon
CPF, Region Skåne
Sweden
Heidi Kaartinen
Finnish Gymnastics Federation Svoli
Finland
Mette
Denmark
Prof. Dr. Herbert Hartmann
German Gymnastic Federation
Germany
Margrethe Ramhøj Schrøder
DGI Sydvest
Denmark
ferdinando caronna
FITB
Italy
Paolo A. Adami
Federazione Italiana Aerobica e Fitness - FIAeF
Italy
Francesco Emanuel Pellitteri
FEDERAZIONE TCHOUKBALL ITALIA
Italy
Lano, Valentina
FEDERAZIONE TCHOUKBALL ITALIA, Italy
Italy
MICHELE MOGAVERO
FEDERAZIONE TCHOUKBALL ITALIA
Italy
Diego Carugati
Federazione TchoukBall Italia
Italy
maria negrisolo
TCHOUKBALL
Italy
Mimi Rodriguez Adami
Federazione Italiana Aerobica e Fitness
Italy
Julie McGahan
Scottish Centre for Healthy Working Lives
Scotland
Anders Raustorp
Linnaeus University
Sweden
Simone Garbelli
FTBI
Italy
MERLONE SIMONA
FEDERAZIONE TCHOUKBALL ITALIA
Italy
BARLA MARCO
TCHOUKBALL ITALY
Italy
Camilla Bergholm
Swedish National Centre for Child Health Promotion
Sweden
Guido Fracchia
Federazione Tchoukball Italia
Italy
Marie-Louise Legind Daugaard
Sportssammenslutningen Skjold
Denmark
Rita Scalambra
Unione Italiana Sport per Tutti
Italia
Sofia Stempfel
FITB
Italy
Karin Dahl
Svenska Gång- och Vandrarförbundet
Sverige
Mattia Gatta
FEDERAZIONE TCHOUKBALL ITALIA
Italy
Tiziano Pesce
UISP
Italy
Lars Wennerholm
Swedish bandyfedaration
Sweden
Andrea Davidsson
Swedish Swimming Federation
Sweden
Ulf
Bosön Sports College
Sweden
Marina Grabarenko
IOC of the Republic of Tajikistan
Tajikistan
hugo
Portugal
FRANCESCO ZAMBELLO
FTBI
Italy
Sofia Kärrå
Korpens Svenska motionsidrottsforbundet
Sweden
Elizabeth Paoliello
UNICAMP
Brazil
jm conn
aberdeenshire sports council
United Kingdom
fiona, Campbell
Friend of EduSport
United Kingdom
Iveta, Petrláková
Splav
Czech Republic
Christer Gustavsson
Sweden
CANAL Marion
UFOLEP 63
France
Sorin Buruiana
League for Education, Culture and Sport LECS
Romania
pietro di nocera
r.a.s.l.e.f
Italy
Annemari Johansson
Sweden
Giulia Pessino
FEDERAZIONE TCHOUKBALL ITALIA
Italy
Alfonso Capodicasa
Uisp Pescara
Italy
Antonio Borgogni
University of Cassino
Italy
Claudio Santalucia
UISP
Italy
Maestrelli Enrico
Orcalocasub
Italy
Birgitta Kervinen
European Non-Govermental Sports Organisation (ENGSO)
Finland
Brahmia Ahmed
FutSal
Tunisia
Heleen Bakker
Nederlandse Sport Alliantie
The Netherlands
Benjamin Prudhomme
France
raffaella chiodo
UISP
Italy
Livia Dusatti
Peace Games-Uisp
Italy
Pia Pauly
Deutscher Turner-Bund
Germany
ARNAUD Jean-Claude
USEP
France
Diwakar Lal Amatya
National Association For Sports Health and Fitness
Nepal
Nuno Delicado
Portugal
Pietro Grandi
Italy
Dagmar Nemček
Union of Recreational Physical Education and Sport
Slovakia
Maria Emmanouilidou
Club Serron for UNESCO
Greece
Zoran Milovanovic
South East European Orienteering Working Group
Serbia
Christian Chow
Cumbria County Council
England
Anders Kragh Jespersen
Danish Sport and Gymnastic Associations
Denmark
Elena Timova
GARD
Republic of Macedonia
Fabrizio De Meo
Uisp
Italy
Ioana Raluca HUDITA
Activ! association
Romania
Moga Diana Florina
ASCU
Romania
Hanna Puromäki
Finland
Per Nylander
Tidskrift i Idrott&Hälsa
Sweden
Luciano Truzzi
Brazil
salvatore stracuzzi
Italy
Søren Winther Lundby
New Europe
Denmark
Karel Malach
Tělocvičná jednota Sokol Boskovice
Czech Republic
Jaroslav Chalupa
TJ SOKOL Pyšely
Czech Republic
Jiří Vaner
Česká obec sokolská
Czech Republic
Radim Kvitský
T.J. Sokol
Czech Republic
Marika Prockertová
Sokol
Czech Republic
Luděk Pařízek
TJ SOKOL PYŠELY
Czech Republic
Emmanuel Condé
Intelligence of sport
France
chiara stinghi
UISP
Italy
Tomas Jelen
Czech Sokol Organization
Czech Republic
Rado Cvetek
Športna unija Slovenije
Slovenia
Lída Ryšavá
Czech Sokol Organization
Czech Republic
Alessandra Pessina
Uisp Comitato Provinciale Varese
Italy
Monica Tanturli
Uisp
Italy
Klaus Rienecker
Youth Organization in Sports Schleswig-Holstein
Germany
Alyn Smith
Member of the European Parliament for Scotland
Scotland
Marcel Lehmann
Germany
David Martin MEP
European Parliament
Scotland
Johan Conradson
Akershus idrettskrets
Norway
Aissa
Union Jeunesse Euromed Akbou Algeria
Algeria
Aiga Dombrovska
Latvian Academy of Sport education
Latvia
Jens Sejer Andersen
Play the Game
Denmark
Constantina Patrascu
InterCampus Slatina
Romania
Gertrud Schäfer
Germany
bouhadi
asmr-fairplay
Algeria
Petar Stanic
Volleyball club "Smech", Belgrade, Serbia
Portugal
alessandro parisi assenza
Italy
Rossano Raimondi
Officina del Movimento
Italy
Olivier Comont
Fédération Sportive et Gymnique du Travail
France
Alessandro Ariemma
UISP - Comitato di Pesaro
Italy
Judit Farkas
Hungary
Duarte Oliveira
AMDpT
Portugal
Bojana
Macedonia
Milan Hosta
SPOLINT Institute
Slovenia
CARLOS REBELO
Portugal
RUGGERO ALCANTERINI
COMITATO NAZIONALE ITALIANO FAIR PLAY . FEDERAZIONE ITALIANA SPORT PER TUTTI
Italy
Rafael Santos
Associação da Madeira de Desporto para Todos
Portugal
Borche Boev
Association of Macedonian sport federations
Macedonia
ALYN SMITH
EUROPEAN PARLIAMENT
United Kingdom
Thibault de Changy
Belgium
Timothy Cooper
Belgium
Kestutis Levickis
LKCKA NEMUNAS
Lithuania
Vojko Rener
Slovenia
Haritz, Ferrando
Bicicleta Club de Catalunya (BACC)
Spain
KREMERS HANS
France
Chloé Mispelon
ECF
Belgium
Bernhard Ensink
ECF
Belgium
Stevo Mitrovski
Macedonia
Costas Tsiringakis
Syllogos ORTHOPETALIA
Greece
Laruelo, Alfonso
Spain
Pieters Mathieu
F.I.S.E.C. Fédération Internationale Sportive de l' Enseignement Catholique
Netherlands
Tim Klöckner
Germany
Ivano Maiorella
Uisp-Unione Italiana Sport Per tutti
Italy
Joan Jordi Rossell i Casas
Reagrupament
Catalonia
Leandros Maglaras
Greece
Stefka Djobova
National Sports Academy
Bulgaria
Helena H. Kronberg
Sweden
mateja bulc
EUROPREV
Slovenia
Dana Badau
Romanian Federation Sport for all
Romania
Adela Badau
George Baritiu University
Romania
Adina Liana Camarda
George Baritiu University
Romania
Carlo Balestri
UISP
Italy
JASNA VUCAK
oom
Croatia
Filipe Alves
Portugal
Maria da Luz
Câmara Muncipal do Funchal
Portugal
Borislav, Obradovic
Faculty of sport and physical education
Serbia
Jaroslav Chalupa
Sokol Pyšely
Czech Republic
André MICHALIK
USEP 81
France
AURELIA SUCIU
ROMANIAN FEDERATION SPORT FOR ALL
Romania
ALEXANDRA LORENA MINDRUT
ROMANIAN FEDERATION SPORT FOR ALL
Romania
Mirela Bitan
Romanian Federation Sport for All
Romania
Mihaela Mateescu
Romanian Federation Sport for All
Romania
Ecaterina Botezat
Romanian Federation Sport for All
Romania
Petra Regelin
Deutscher Turner-Bund (German Gymnastics Federation)
Germany
JEZDIMIR MARSENIC
ASSOCIATION SPORT FOR ALL SERBIA
Serbia
MARCOS VELAR
Spain
Fiona Campbell
Friend of EduSport
United Kingdom
DOMINGO, Jaume
Unió de Consells Esportius de Catalunya (UCEC)
Spain
VASCO HENRI
USEP 31
France
bruno orlandini
uisp - parma
Italy
bruno orlandini
uisp - parma
Italy
Angelica Mihaela Anghelache
Romania
Regina Margarida Batalha Marques
INATEL
Portugal
Gkarmiri Vasiliki
ELEGEIA
Greece
Cristi Iacoban
ATLETIC CLUB IACRIS
Romania
Tamara Jishkariani
Adventure Film Festival Niamori
Georgia
BAUGUIL Pascale
USEP GOURGAN
France
Renata Kutnjak Kis
Institute of public health County Medjimurje
Croatia
Claudiu Antonel Roznovszky
Clubul Sportiv Roman
Romania
LECHARLIER
Belgium
Søren Riiskjær
Danish Gymnastics & Sports Asssociation
Denmark
Florin Baetii
Romanian National Anti-Doping Agency
Romania
Ivana Petricevic
Belgian EU Presidency Sport
Belgium
Andreja Madjovski
Associaton of citizens "Doverba"
Macedonia
MdEP Dr. Wolf Klinz
Europäisches Parlament
Germany
NUNNINGER Richard
FSGT Alsace
France
MARCEL GAILLARD
France
GENCO Domènico
SPORT DE COMBATS ALSACE FSGT
France
Iris Goršek
ŽOK KAJUH ŠOŠTANJ
Slovenia
BENAZET
FSGT
France
ALLOUCH Ahmed
Académie Nationale Olympique Tunisienne
Tunisia
Claudia Ilie
National Anti-Doping Agency of Romania
Romania
Gesine Meissner
European Parliament
Germany
Mary Ronan
Ireland
paquier gérard
président du comité FSGT SARTHE
France
Sylvain LANDA
Think tank Sport et Citoyenneté
France
MAGDA MINZALESCU
ANAD
Romania
Polina
Austria
Michael Theurer
Member of the European Parliament
Germany
Goce ILIEVSKI
G A R D
Macedonia
MAUBIAN Robert
Foyer Laique de Saint-marc -BREST
France
Cristina Nenea
Romania
Antonello, Ammannati
Italy
Lars Allert
Swedish Sports Confederation
Sweden
Kismet Erkiner
Institut of Sports Law (Turkey)
Turkey
Silvia David
Romania
Tommaso D'Aprile
turisport Europe
Edlira Mullaj
Aegee-Tirana
Albania
Ian Lynchahon
SportRenfrewshire
Scotland
Szilvia Perenyi
Greece
qumingxiang
Beijing sport university
China
Iris Goršek
ŽOK KAJUH ŠOŠTANJ
Slovenia
Eloisa Lorente
University of Bedfordshire
United Kingdom
Giuseppe Lodeserto
ADO UISP LECCE
Italy
COLMONT, Bernard
USEP
France
DECKER rOBERT
f i e p
Luxembourg
leni janakieva
mc air macedpnia
Macedonia
HANSS Raymond
F.S.G.T. 67
France
Claude MALLET
Èlu
France
Thérèse HUART
France
Claude Magne
USEP
France
Tommaso Ricci
UISP Genova
Italy
Andy Stowe
Streetgames
United Kingdom
Vasilescu Maria Mirela
Exercise Physiology Department, Faculty of Physical Education and Sports, University of Craiova
Romania
Leena Krogerus
HUSLAB
Finland
LAPERRIERE Valérie
France
Bzhezovska Tetyana
Kyiv Palace for children and youth
Ukraine
Naoufal OULDA
Moroccan Social Sites
Morocco
paola zangla
Italy
Feliks Sterna
ULKS Olimpijczyk
Poland
Ariadna, Cortada
Spain
Simon Prahm
GAM3 - Urban Sports Organization
Denmark
Giuseppe Viscido
asd uisp san bonifacio
Italy
Matteo SIMONE
Italy
Maurizio Galuppo
Italy
Judit Farkas
Semmelweis University
Hungary
suvad džafić
Ministry of civil affairs of BiH
Bosnia and Herzegovina
Dragan Markelić
JEF Bosnia and Herzegovina
Bosnia and Herzegovina
Jordi, Cavero
Barcelona Provincial Council
Spain
cherbonnel
Ufolep
France
MAZARE Michel
Ligue de l'enseignement
France
Gino Schiavone
Malta Exercise Health and Fitness Association
Malta
Rasa Jankauskiene
Lithuanian Academy of Physical Education
Lithuania
Sylvia Gilbert
United Kingdom
Kate, Laine
Interational Working Group on Women and Sport
Finland
Rossa, O'Donnell
International Platform on Sport and Development
Switzerland
Rolf Salinger
Deutscher Schwimm-Verband
Deutschland
Stefan, Storcksdieck
European Food Information Council
Belgium
Emma McClarkin
MEP
Belgium
Vera SIMOVSKA
HEPA Macedonia national organization for the promotion of Health-Enhancing Physical Activity
Macedonia
Rafael Acosta
ministerio del deporte venezuela
venezuela-caracas
AIGOUN MALIK
MECHTRAS KARATE CLUB DE TIMIZART
Algeria
Eduardo Balekjian
European Capitals of Sport Association (ACES)
Belgium
Mikel, Urdangarin
Fundación Estadio S.D. Fundazioa
Basque Country, Spain
Vera Simovska
University MIT,Faculty of Health Management-Skopje
macedonia
Dayne
University of Wales Institute, Cardiff
Wales
Zoe Pafili
Volos General Hospital, Greece
Greece
CHARAN SINGH
SURTAL SABHIACHAR & SAMAJ BHALAI CLUB INTERNATIONAL
U.K
Last update 10/06/2011.