15/1/2008
The FIIC Intercrosse World Games 2008
Invitation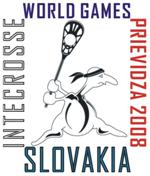 Fédération Internationale d'Inter-Crosse (FIIC) together with the Klub Pampúch Prievidza hereby invites you as a member of the FIIC to take part in the 20th edition of the FIIC Intercrosse World Games.
About World Games
World Games is an FIIC sponsored event held annually in July-August since 1985.
The tournament is played with mixed teams (men and women play together).
World Games is not a tournament of traditional teams but rather a social tournament where the teams are composed of players from different countries. The teams are divided by a draw of lots at the opening ceremony of the tournament.
World Games aim to increase communication between intercrosse players world-wide and at the same time offer players a forum to learn about the game, both socially and technically.
Where and when:
The World Games will be held in Prievidza, Slovakia, August 5-10. 2008.
The registration deadline is the 30th April 2008! There are two steps to apply so register early to be sure to have a place!
All the information needed, can be downloaded from the attached PDF.
Alternatively, more information can be found on the organisers' website; www.interkros.sk or the FIIC website http://www.inter-crosse.com.
For details or questions regarding the event please contact the organisers:
Mobile: ++421905288699 (German or Russian)
E-mail: [email protected] (German or English)