5/5/2011
PUBLIC HEARING ON GRASSROOTS SPORT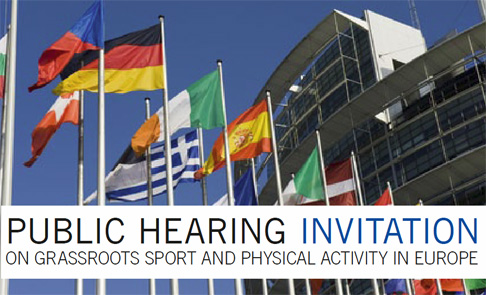 100 MILLION MORE EUROPEANS ACTIVE IN SPORT AND PHYSICAL ACTIVITY BY 2020
setting the priorities for grassroots sport and physical activity in Europe
Date and place
EUROPEAN PARLIAMENT
Rue Wiertz , Brussels, Room ASP A1H1
09.00 to 11.30 the 31st of May 2011
---
The European Parliament and the European Council have politically committed to increasing grassroots sport participation across Europe. Now it is time to flesh out the steps to get there.
Financially, the European citizens themselves are the biggest contributor to grassroots sport and physical activity turnover. In second place, the local municipalities and cities are by far the biggest contributor, with up to 100 Euros of support per citizen per year in some instances.
Support from national governments, from lotteries and from professional sport remains important. But they are not the main funding sources. The same can surely be said for the money allocated by the EU directly to Sport, accounting for less than one cent per European Citizen per year.
What, then, is the role of Europe in the world of sport?
If financial support is not the driver, indeed the need for shared political visions could be. To boost sport and physical activity participation we need shared political goals to inspire all levels of stakeholders, to rally support and to coordinate efforts across sectors.
It is a matter of political priority. Sport in Europe faces many challenges, as described in the recent European Commission Communication on Sport. But with increased grassroots participation as the primary goal, there is a need for higher attention from all relevant sectors, such as health, education, urban planning, new technology and facility development.
The public hearing will provide a platform for formulating the visions and priorities for European grassroots sport. But most importantly, it will allow stakeholders to reflect on the necessary steps to get there, and on whom needs to be involved to that end.
---
Programme
MEP Emma McClarkin (ECR, UK)
MEP Sean Kelly (EPP, Ireland)
Stefan Szymanski (City University of London, UK)
James MacDougall (Sport and Recreation Alliance)
Mr Filippo Fossati, Chairman of ISCA Europe and President of Unione Italiana Sport per Tutti - UISP
Mr Mogens Kirkeby, president of International Sport and Culture Association - ISCA
The event will be organized in English, with simultaneous translation available in Spanish, Polish and Italian.
ORGANISERS
The Public Hearing is organized by ISCA Europe in cooperation with and kindly hosted by MEP Ms Emma McClarkin.
---