16/12/2010
Pilot Training
on intercultural skills for volunteers and youth leaders working with people with disabilities
Organisers
The Enlarged Partial Agreement on Sport (EPAS), Special Olympics Europe/Eurasia and ISCA (International Sport and Culture Association).
Date and venue
European Youth Centre, Strasbourg, France, 3-6 February.
Participants
25/30 youth with and without disability. Sport leaders and volunteers working with people with disabilities.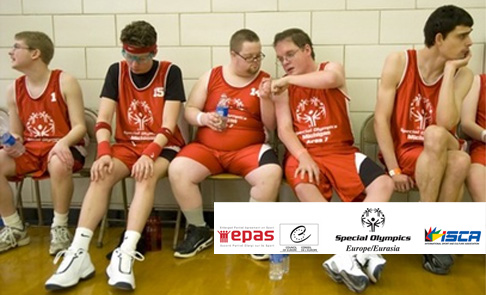 Context
- There is only limited international exchange of experience or know-how when working with person with intellectual disabilities,
- There is a need to identify cultural commonalities and differences of young people with and without disabilities in Europe,
- Youth activation and advocacy work in the environment of the Council of Europe (developing leadership skills and building up network),
- Empowering youth leaders to break down barriers between people with and without disabilities in different countries,
- How can sport contribute to empowering youth with disabilities and develop mutual understanding between volunteers, leaders and athletes with and without disabilities.
---
Themes
Two sub-themes were identified:
1. Participation of youth with disabilities
- llenges faced by youth with disabilities
- Developping new ways of participation
These two aspects will allow to address different aspect of participation, such as Activation/Motivation, Public speaking, Campaigning, Building up networks and Leadership.
2. Exploring the notion of intercultural dialogue and the fight against discrimination
- The role of Sport in promoting diversity and dialogue
- Sharing good practices and methods
In addition, the role of the Youth Advisory Committee members of Special Olympics will be considered in view of the forthcoming Global Special Olympics Youth Summit (Athens/Greece June 2011).
---
Contact
For further information, please contact the Secretariat of the Enlarged Partial Agreement on Sport (EPAS) in the Council of Europe:
Sonia Parayre
Directorate General IV - Education, Culture and Heritage, Youth and Sport
1, Quai Jacoutot, F-67075 STRASBOURG Cedex, France
Tel: (33) 3 90 21 54 55 Fax: (33) 3 88 41 24 29
E-mail: [email protected]
Link : www.coe.int/epas
Read more in the Seminar Invitation below.