23/2/2011
ISCA Badminton Festival 2011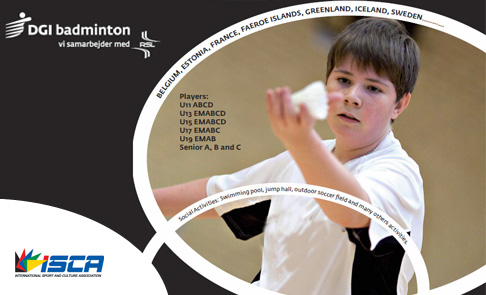 DGI Badminton and International Sport and Culture Association (ISCA) invite you to join the ISCA Badminton Festival in Vejen Idrætscenter, taking place from the 21-24 April 2011.
Join the ISCA tournament and participate in exciting matches and get to know participants from other countries. Our success is built on providing great experiences in an inclusive atmosphere.
Participants:
Players: U11 ABCD (Born 2000-2001)
U13 EMABCD (born 1998-1999)
U15 EMABCD (born 1996-1997)
U17 EMABC (born 1994-1995)
U19 EMAB (born 1992-1993)
Senior A, B and C (exercisers)
---
Invited countries:
Belgium, Estonia, France, Faeroe Islands, Greenland, Iceland, Italy, Latvia, Lithuania, Norway, Poland, Scotland, Switzerland, Sweden, Germany and Serbia.
---
Team tournament on Thursday
Team tournament is played across the nationalities. Each team consists of participants from several countries. Event Management provides teams.
Tournaments are played in Vejen Idrætscenter and other halls.
---
Individual tournament is played Friday and Saturday
Single - doubles - mixed doubles.
It is played pool / pool / cup in both singles as doubles.
Each player can participate at most in 2 categories.
Single – double – mixed double.
---
Counting System:
Best of 3 sets of 21
---
Prizes:
There is a prize for 1, 2 and 3 of all ranks and categories of the individual.
---
Social Activities:
Swimming pool, jump hall, outdoor soccer field and many others activities.
---
T-shirt:
There will be opportunity for buy a t-shirt for 8.00 Euro each. (Remember to book the size of the entry form) Sizes: 8 /10 years, 12/14 years, M, L, XL and XXL
---
Price:
U11, U13, U15, U17, U19 and senior
55, Euro - per person
The price includes:
• sandwich Thursday
• Breakfast Friday, Saturday
• Lunch sandwiches Friday and Saturday
• Dinner Friday
• School Accommodation Thursday and Friday
• Badminton Tournament
• Balls
• Contact with foreign participants
---
Accommodation:
School accommodation is included in the Festival price.
You can choose one of the following accommodation options:
School accommodation, Hostel, 3-Stars Hotel.
Hostel: a) 6 bedded room (hostel) 12 Euro - pr. per person. night
Hotel: a) single room 74,- Euro, - per night. per person. night
b) double room 42,- Euro, - pr. per person. night
c) 3-bed room 32,- Euro, - pr. per person. night
d) 4-bed room 26,- Euro, - pr. per person. night
Party Saturday, breakfast Sunday and overnight at school to Sunday: 28,- Euro, - pr. person
---
Played in following lines:
U11, U13, U15, U17 and U19: HS, DS, HD, DD and MD
Senior: HS, DS, HD, DD and MD.
---
Festival Management:
DGI Badminton Leaders
Contact: Benny Andreasen, phone +45 65 33 16 33 or benny.andreasen@dgi.dk
Bettina Arens, phone +45 79 40 40 23 or ba@dgi.dk
---
Registration deadline: 10th March 2011
Registrations should be sent to ba@dgi.dk or
DGI Badminton, Vingsted skovvej 1, 7100 Vejle
---
Further dates for your Badminton diary
ISCA BADMINTON CAMP
DGI badminton, Fyn
31. July - 4. August 2011 ISCA camp in Vingstedcentret.
A week with lots of experiences with both Danish and foreign participants aged 14-18 years.
---
COACH / PLAYER CAMP IN FRANCE
6. - 11 August 2011 senior / trainer camp in France.
---
LBS - BADMINTON TOURNAMENT
21. -23. October 2011 in Fredericia Sports Centre
The whole club can go.
U11 - U19 players can participate.
This year's club trip - could go to Fredericia.
---