19/8/2011
2nd Forum of Gymnastics and Moving Bodies
October 13-16, 2011
Paysandú – Uruguay
The 2nd Forum of Gymnastics and Moving Body it is a similar event to the V International Forum of General Gymnastics that was held in Brazil, with time for performances, workshops and academic research presentations. It involves institutions from the whole formal education system, as well as non-formal and private sports clubs.
During the Forum people will share ideas and learn from each other. We provide a place where everyone can show what he's capable of, and where we all learn from different cultures and working methods. We are based on Sport for All philosophy, that's why we provide tools for the teachers/instructors to adapt their knowledge for every student; through the workshops.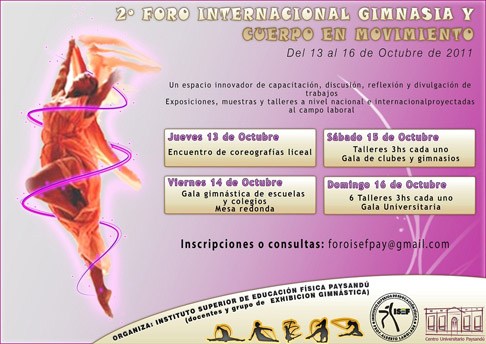 The forum is open to people of all ages, within a wide amount of activities which take place during 4 days:
13/10 - Choreography event for Highschools.
14/10 - Primary Schools Performances.
15/10 - Workshops and Clubs and Gymnasiums Performances.
16/10 - Workshops and Universities Performances.
We strongly believe that people grow and reach higher levels of personal life-experiences and professional knowledge, together with others, through sports and cultural activities, like our Forum.
Nicolás Rivarola.
Estudiante de Educación Física.
Gymnastikhøjskolen i Ollerup.